Ultrazonic ENDO
Automatically cleans multiple endoscopes at the same time, including 100% traceability.
Decent cleaning of endoscopes still proves to be a major challenge
Current reprocessing procedures insufficient
No decent pre-cleaning, no patient-safe outcome
Download Brochure: Endo_Brochure_Digital
DESCRIPTION
Challenge of today's cleaning cycle
For a technician, doctor, infection control specialist or other healthcare professional using endoscopes, guaranteeing a clean endoscope is a major challenge.
In the rush to start the next procedure, pre-cleaning is often cut short or the endoscope is simply set aside until after. Too often hospitals need to compromise on time, staff and education, resulting in poor cleaning results.
On top of that, the complexity of flexible endoscopes requires extra attention and accuracy when cleaning. However, all the above may not form any excuse as patients life are literally at stake procedure after procedure.
Cleaning multiple endoscopes simultaneously
UltraZonic's philosophy is to correctly perform all cleaning steps, without the risk of skipping them. Many years ago, in our quest to tackle current contamination issues in endoscope cleaning, we developed the first device to automatically perform and track & trace the entire cleaning procedure. Brushing procedure included, thanks to an integrated camera recording this step. This is still the only device worldwide that can guarantee no steps can be skipped or misperformed.
Save valuable space and time, by cleaning multiple endoscopes simultaneously. This is much needed technology to eliminate avoidable cleaning mistakes and guarantee a patient safe outcome. Don't wait to integrate automated traceability systems in your cleaning routine until it's obligated to do so. Do so because you care about your patients' lives. Today.
Just connect your endoscope, and the ENDO will do all the work for you. In a safe, efficient and trustworthy way. Procedure after procedure. Our ENDO finally makes cleaning an easy and controlled process.
Step 1: leakage test on a dry surface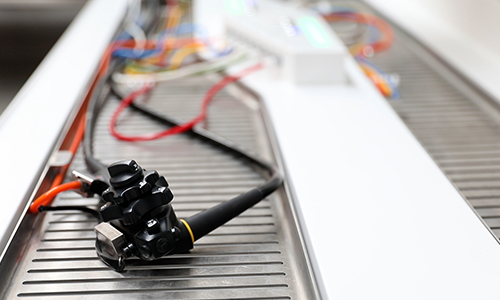 By leak testing your endoscope on a dry surface you will prevent more internal damage. Tiny leakages are mostly discovered in the last 30 seconds.
Therefore it is of the utmost importance to respect the 2-minute leakage time before immerging it in water for first flushing. If the leakage test has failed, you will not be able to continue the process. That way infections or further internal damage do not stand a chance.
Step 2: first flushing of all channels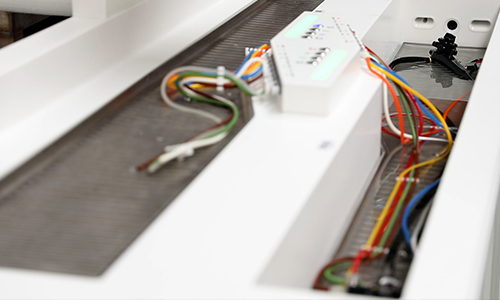 After a successful leakage test, the shelves will automatically go down to start the first flushing. In the meanwhile, the sink has automatically been filled with detergent and water, thoroughly rinsing all the channels with respect for the correct water temperature and detergent contact time.
Already allowing biofilm and bioburden to breakdown.
Step 3: brushing procedure (RECORDED!)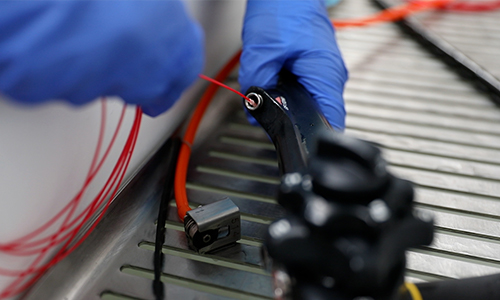 Since the channels have already been flushed, the intensive brushing of the dry channels will go a lot smoother and all the week debris will be removed much easier, preventing internal damage (scratches).
FACT: our ENDO records the entire brushing procedure with an integrated camera, as it is the only manual intervention. Afterwards, the video report can always be advised. In other words, 100% traceability of the entire cleaning procedure is ensured. This technology is unseen and most revolutionary.
Step 4: second and final flushing of all channels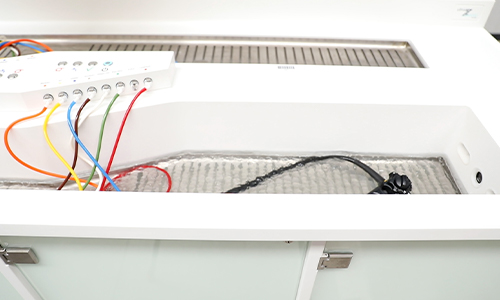 Removing all the remaining debris that were loosened by the brushing procedure. An extra flush guaranteeing all channels have been thoroughly cleaned. The device is now ready for disinfection.